The Porter delivers Canadian Black history to our screens: Q & A with Djouliet Amara
Dr. Rita Shelton Deverell: Djouliet, full disclosure, I sit on the CBC/Radio-Canada Board of Directors, which has no oversight of/impact on programming decisions! Nonetheless, I'm very proud of The Porter. For me, having been part of the industry for more than 50 years and being a performer who is Black, The Porter is a unique and revolutionary television series. Is it unique and revolutionary for you?
Djouliet Amara: Such a pleasure to meet you! Working on The Porter was such a beautiful experience. I have never been in a single room in Canada filled to the brim with Black artists. The feeling of community, heart, passion and spirit was overwhelming in the best of ways and left me feeling so full. It was a surprise to me that we were Canada's first all-Black led and Black-run series portraying Canadian Black history. It was an honour to make history with all those beautiful people who I adore so much and hold so dearly in my heart. Revolutionary to the max! We created something gorgeous.
R. What do you love about your character Corrine?
D. I love Corrine's devotion to her love of dance and the no-nonsense way about her. The first move in my career as an artist was towards professional dance. It was sweet to bring that part of me out in this role and to be a part of the show's Emmy nomination for Christian Vincent's gorgeous choreography. Corrine was the dance star of the stardust!
R. I was born and raised in Texas and had tall, handsome uncles and great-uncles who were porters. My earliest travels by train, as an eight-year-old in the segregated U.S. South, could happen because my uncles could look after me. How do you identify with the realities of Corrine's world?
D. I think a lot of realities in Corrine's world still sadly stand true today in a few ways. Racism is still a major issue in the world, but beyond that, colourism (even within race!) exists today. A lot of Corrine's story revolves around conflicts in colourism and Corrine's light-skin privilege. I recognize a lot of the world has yet to recognize and understand these issues that stem from white supremacy.
R. Many of your growing-up years were in Winnipeg where The Porter was shot. From 2002 to 2006 I had the pleasure of working for APTN (Aboriginal Peoples Television Network) and living in Winnipeg. What unique contributions, if any, did the atmosphere of Winnipeg create to cast and crew as a home shooting location?
D. Yes, I did! Isn't Winnipeg sweet? I think Winnipeg holds a lot of culture, and it was amazing to be shooting such a meaningful project in the melting pot of Canada. My family, myself included, immigrated to Winnipeg when I was young because there were a lot of people immigrating there. Winnipeg is charming, welcoming, simple. We have a really sick working railway station too, which we used while filming The Porter.
R. Tales of the Hood 3, I didn't realize we were both actors in this feature until researching for this interview. At age 75, my fantasies came true and I was cast in a feature film! You've had that experience several times in your 20s, Djouliet. What do you see as major changes in the past few years for performers who look like us?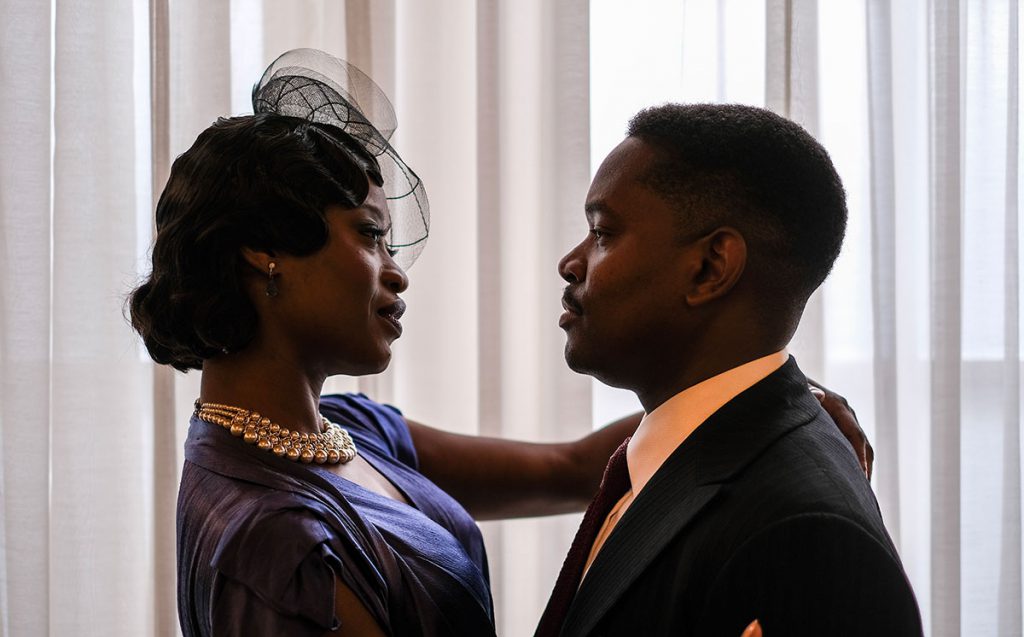 D. This is so wild! Tales was my first-ever project! I played four roles in that movie! A super bizarre welcome-to-the-industry moment. I've definitely been seeing more diversification of stories lately. More projects are being made by people of different cultures and backgrounds, and there's this beautiful richness in the work being created. Recently, I've attended screenings for some gorgeous films created by Black women — by favourite being The Nanny. Naturally, as more stories are being told from diverse perspectives, more opportunities exist for Persons of Colour in film. There is one thing I would love to see happen in the film industry, though. I notice a lot of creatives will create projects and pat themselves on the back for diverse casting — yet all of their leads will be white. I've been thinking a lot about why this is and I think it has a lot to do with the fear of telling a story that isn't theirs. My thought on that is that not everything has to be that deep, unless it is! Can we tell more stories and not think too much and put a bunch of gloriously unique people with different perspectives in a room and see what happens? I'm curious about this!
D. I just wrapped filming on a project and am answering these questions on a plane back to New York! I'm excited to be back in the city that inspires me the most. I star in a series coming soon to AppleTV+ called The Big Door Prize and I can't wait for you to see it! It's a super magical comedy I had the pleasure of creating with a group of wonderful human beings! Like, the loveliest human beings in the world. David West Read (my boss!) and I are the only Canadians involved (I think!). Go Canada! I also wrapped a feature this past summer called Bloody Hell. Not a horror, despite its name. Although I'd love to be a scream queen!
Djouliet Amara is a Canadian actress based in New York City. Soon she will star opposite Chris O'Dowd in the Apple TV+ comedy series The Big Door Prize and opposite Maddie Ziegler and Emily Hampshire in Molly McGlynn's 2023 traumedy Bloody Hell. She co-stars in the Netflix horror/mystery series Devil in Ohio and has guest-starred on the CW series Riverdale and the CBS series So Help Me Todd, and had recurring roles on the HBO max/CW series Superman & Lois, the CBC/BET+ series The Porter and the Paramount+ series Guilty Party opposite Kate Beckinsale. She co-stars opposite Ayo Edebiri in Netflix's Hello Goodbye and Everything In Between and opposite Suki Waterhouse in Dark Castle's Seance. Amara was born in Russia and raised in Winnipeg, Manitoba. Her mother is Russian and her father is from Sierra Leone. Amara got her start in the arts when she was a child, focusing in on dance. She eventually moved to NYC to be a professional ballerina and accidentally fell in love with acting in the process. She currently resides in NYC.
An ACTRA member since 1974, Dr. Rita Shelton Deverell received a 2022 Governor General's Performing Arts Award (GGPAA) for Lifetime Artistic Achievement in Broadcasting. A television executive, performer, scholar and activist, Rita has stood out for her innovation, creativity and inclusion. Rita coordinated ACTRA's earliest study on diversity, Equal Opportunities to Perform, in 1987, and served on the ACTRA Saskatchewan Branch Council and the National Executive in the 1970s and '80s. Driven by her commitment to social justice, she has focused on telling the stories of those whose voices are often unheard. Rita co-founded VisionTV, the world's first multifaith and multicultural network, and is one of the first Black women in Canada to be a television host and on the national broadcaster's senior management team. She was appointed to the Order of Canada in 2005 and named ACTRA National Woman of the Year in 2018.