Farewells
We remember… today and always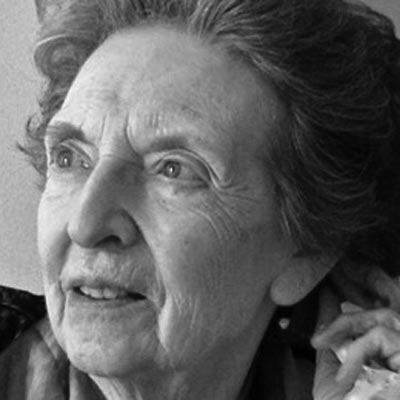 Margaret Collier
1932 – 2021
Margaret Collier has left us and I can never pay her back.
Shortly after I joined ACTRA in 1981 as a writer, (writers, performers and broadcast journalists—now three separate unions—were all part of what was then the Alliance of Canadian Television and Radio Artists), a formidable woman became the executive director of the writers guild. Her name was Margaret Collier and nobody messed with her. She had a thick Scottish brogue and a stammer that made her all that more intimidating, which would come in handy as she led the writers during collective bargaining sessions. I saw her up close when I sat on the CBC negotiating team in the late 80's and to see her stand up to CBC brass alongside then performer head Garry Neil was a lot of fun.
When the Academy of Canadian Cinema and Television wanted a suitable person to honour when giving a lifetime achievement for writing award, they didn't choose a writer. They chose Margaret Collier and since 1986 the award in her name has been included every year.
She was a fiery advocate for writers, protecting us from wayward engagers. She never married, but she was our parent and our protector for 35 years. I like to think she needed us as much as we needed her. We could never repay her for all she did for Canadian writers. And knowing her, I think she knew that and didn't mind.
Sugith Varughese
Glenn Downey
1956-2021
Glenn Downey was born in Stephenville, NL, one of twelve siblings and the seventh son of a seventh son. A very rare bird. A stand-up comedian, recording artist, sketch comedy writer and performer, stage actor, film actor, raconteur, a singer with a fondness for the harmony line, and an accomplished musician who made playing the Ugly Stick (his favourite instrument) an art form.
Glenn was also an accomplished mimic. His spot-on impersonations of public figures like Rex Murphy, Don Cherry and local journalist Larry Hudson delighted audiences as part of the annual Rising Tide Revue or in satirical spots on CBC TV's Here and Now. A favourite was late Lieutenant-Governor John Crosbie as a Thanksgiving turkey. Ingeniously harnessing Crosbie's own comic sensibilities, the popcorn-stuffed bird concluded his monologue by wryly promising to "blow the arse out of 'er." I saw the piece performed live and it fuelled my laughter for days.
Glenn was a union man, first to last, and proud of that work. Throughout his career, he was a willing, active, concerned and thoughtful representative at both ACTRA Newfoundland and Labrador and on the ACTRA National Council.
He was also as steady as a rock in front of the camera.
Long-time colleague and Rising Tide Artistic Director Donna Butt offered this: "His absolute delight in the laughter of audiences and the smiles he brought to thousands over the years was beautiful to watch."
A legacy to admire. A life to celebrate. A loss to be mourned. Farewell, Glenn Downey.
Paul Rowe
Jahmil French
1992 – 2021
Jahmil French was a vibrant young man with talent, drive and a total commitment to his craft. A handsome human – so unique and creative that saying his name once wouldn't do his spirit justice. It was difficult for anyone to take their eyes off him, even for a moment, for fear you would miss witnessing what his ever-moving energy would bring next.
On July 29, 1992, Jahmil's dear mother, Ms. Jodi French, gave birth to a star so unique she knew he was born to be in performing arts, even at a very young age. Ms. Jodi: thank you for sharing your boy with the world. He spent his 28 years impacting our society, dazzling our screens, changing our industry and making an impact on everyone he met.
Anyone who knew Jahmil knew he never stood still – just ask the camera operators and the focus pullers. He was always dancing, singing and creating. His zest for experiencing new memories while gathering ancient wisdom led him into a conscious journey of self-discovery. His internal foundation helped him navigate adulthood.
Dance was Jahmil's language. It was the way he communicated and the way he expressed himself. Beyond TV & film, he belonged to The MoonRunners dance crew and performed in competitions, at industry events, and literally anywhere he could possibly make people smile – including at his favourite spot just outside the Eaton Centre at Dundas Square. The most inspiring part about Jahmil was the fact he never let success, recognition or ego interfere with his passion to dive deeper into studying the arts.
Jahmil joined ACTRA while attending high school at the Wexford Collegiate School for the Arts. After appearing in Flashpoint, he landed a leading role on Degrassi: The Next Generation – and went on to appear in over 149 episodes. He travelled the world doing charity initiatives and fan tours, and continued his career working in the U.S. on various projects, including Netflix's musical drama series Soundtrack, among many others.
Whether it was his successful career on screen, his many friendships, or the societal impact through the characters he portrayed, we all learned from Jahmil. How lucky are we to bear witness to a soul who gave all of his energy and talent to the arts?!
Jahmil, you are so loved. Thank you for all you left us with.
Melinda Shankar
Taran Kootenhayoo
1993 – 2021
Taran Standing Sunrise Kootenhayoo was born on September 18, 1993, in Cold Lake, Alberta, to mom Sheryl Kootenhayoo. He was a member of the Alexis Nakota Sioux Nation and the Denesuline Nation. At age 18, Taran moved to Vancouver and later graduated from the acting program at Capilano University in 2015. He was living in Vancouver at the time of his passing.
His sudden death on December 31, 2020, sent waves of shock and grief across the country. Many of us lit candles and smudged and prayed for him on his journey to join his ancestors.
Taran was an actor, poet, playwright, and member of the skateboarding community. He began writing poetry as a young teen, driven by his desire to change the world through storytelling. He had recently finished writing his play, White Noise, about internalized racism.
I met Taran in 2016 on the set of the indie feature Bella Ciao!. I was playing Constanza, a woman in the final day of her struggle with cancer, and he was playing Niki, a homeless newcomer to the city looking for his missing sister. We were introduced on the day we shot our first scene together. While standing on our marks, he said: "You are an elder. It is your responsibility to mentor people. Do not wait to be asked. Just do it." He was guiding me in that moment, and I took his words very seriously. Taran was not into small talk, and that's why I immediately loved him. I've heard similar stories about him from various people, how he went straight to the core of a conversation, creating instant intimacy.
He went on to be named a "star to watch" in 2018 by the Whistler Film Festival and, in 2019, won the Jessie Richardson Theatre Award for Most Promising Newcomer.
Taran will be remembered for his commitment to community healing through storytelling, his skill, talent, vulnerability, passion, confidence, curiosity, openness, wisdom, humour, and humility. He was certainly a star to watch, and now when I look up at the sky, I see him there and everywhere.
Carmen Aguirre
George Morris
1942 – 2021
On March 14, 2021, Canada lost one of its most revered voice artists, and Montreal lost one of our dearest community builders.
George Morris arrived in Canada from Lublin, Poland, shortly after the Second World War. His early years were spent in Winnipeg but, as a young man, George worked across the country pursuing many thrilling occupations, including a stint as a teenage yo-yo professional, employed by the Cheerio Yo-Yo Company to demonstrate their toys to children. George landed in Montreal in the 1960s and soon established himself as one of Montreal's top radio DJs on 980 CKGM. His on-air popularity soared as Buddy G, "the big boss with the hot sauce." In 1964, at age 22, George shared the stage to introduce the Beatles when they performed in Montreal. Toward the end of the 1960s, George was in such demand as a freelance voice artist, he opened his own recording studio, Listen Audio, which became one of Canada's most successful media production companies. George would operate Listen Audio for almost 40 years.
My own recollections of George are deeply personal. It was at Listen Audio where I met the man who would be my first and most influential teacher in the entertainment industry. George was bigger than life, with a beautiful, booming, baritone voice (he cheekily named his financial services operations loan-out company Great Northern Larynx Ltd… very appropriate). My sister Kirsten was about six years old and I was about four when we did our first voice-over gigs with George. In studio, he was a thrilling cyclone of energy… an endless font of jokes and fun. But he also could be nurturing and tender. When I started out, I couldn't yet read, and George patiently fed me my text with expert care not to give me a line read. After I'd performed my part, the recording engineer would skilfully splice-in leader-tape to assemble the final spot (we worked on two-track, magnetic tape in those days).
As a boy, I thought the best part of public schooling were the days I was allowed to skip class to work at Listen Audio. That was the place where Kirsten and I were truly immersed in the biz. On some days, she and I would report to George's studio after visiting our father at the CBC. The contrast between quietly sitting as our dad read the national news and the thrill of letting loose at Listen Audio taught us the polar extremes of the acting profession, which is lots of waiting around followed by short, passionate bursts of expression. Kirsten and I probably became irrevocably stuck in the business because of those early, fun-filled experiences.
Now, I teach a professional voice workshop to kids and teens and the very first story I tell them is about working with the legendary George Morris. Watching his masterful technique at the microphone was inspirational, but also hilarious and entertaining. No matter how dry the text, George threw his whole body into every read. As soon as the red light came on, he'd spontaneously transform into a zany combination of Robin Williams and Joe Cocker, flapping his arms and contorting his face. He'd make the funniest faces, just inches from mine in the tiny recording booth. It was hard not to spoil the take by laughing.
For decades, most of Montreal's voice artists got their start at George's funky Listen Audio. It was a hotbed of creativity for radio, TV and jingles. George nurtured so many actors, musicians and singers. He helped to build our world-class community.
George Morris was a true bon-vivant, a man-about-town, a great raconteur, an inspirational, world-class voice artist and producer, and a loving family man, devoted to his wife Susan and their three children. George is sorely missed, but he will never be forgotten.
Thor Bishopric
Wilma Pelly
1937 – 2021
Wilma Pelly was born Wilma Episkenew on March 5, 1937, in Fort Qu'apelle, Saskatchewan. She is from Muskowpetung Saulteaux First Nation. Wilma attended Lebret Residential School from 1941-1954, and then moved to Calgary, Alberta, in 1958. This is where she met her husband James Pelley, and where they raised their two girls, Leeanna and Stella. Through the years of the 70s and '80s, Wilma worked various jobs including in a garden centre and having a home-based seamstress shop.
In 1990, Wilma tried out work as a background performer on a Japanese production, Heaven and Earth. She went onto many films as a background performer, such as Children of the Dust. Thena casting director asked if she would audition for a role in a new CBC TV series called North of 60. She actually had to audition several times, once speaking her original language, Saulteaux, once delivering lines in Dene, and then being asked to run from one end of a warehouse to the other. She would laugh after because she thought it meant the role was going to require a lot of physical strength! Wilma landed the role for which she's most known today, Elsie Tsa che, who would become everybody's favourite 'etsu' (grandmother). Wilma was as beloved by her cast members, crew and production team as much as the fans of the show. She was the quiet strength that she embodied in her character.
Her daughters say Wilma never ever let the fame go to her head. She always said she had a glorified job, "Mom took all her roles seriously and most of them required her to learn her lines in other languages, which she worked very hard at, she wanted to sound authentic." Wilma travelled internationally as her talent took her to productions in other countries. In 1995, she went to Italy to film the western, The Last Gunfighter, and she filmed movies in L.A., Edmonton, Africa and Mexico. The premiere of the movie Land was entered in the film festival in Germany. She travelled all over Canada promoting her films, visiting First Nation communities and spreading her joy. She particularly enjoyed visiting the Northwest Territories.
"To be honest, we always knew mom had a great job, but her life and lifestyle was more of a traditional one. She loved powwows, beading, working on her regalia and making Native pillows. She loved her family and her friends, and they always came first. Wilma Pelly loved to laugh, give advice and she had a heart of gold," say Leeanna, Stella and Jim. These are sentiments that are echoed by all who had the pleasure of knowing and were fortunate to have worked with the gracious Wilma Pelly.
Tina Keeper, Leeanna Rhodes, Stella Pelly
Christopher Plummer
1929 – 2021
In the Summer of 2012, ACTRA Toronto was preparing to feature Christopher Plummer on the cover of Performers magazine. For the shoot, I was to serve as publisher and Plummer's chauffeur.
Yes, I was to drive Christopher Plummer… the star. He who had played everything from Cyrano to Lear on stage in Canada, the U.S. and Britain, and worked with everyone from Elia Kazan to Adam Egoyan in film. He was a pioneer both at Stratford and the CBC. With 70 years of stage, screen and TV performances, his credits were legion. Not to mention he was a Companion of the Order of Canada, winner of two ACTRA Awards, a Genie, Gemini and a CSA. He had the triple crown of acting: an Emmy, a Tony, and an Oscar (Tony and Emmy twice), was the recipient of thirty separate awards for his tender performance in Beginners, including an ACTRA Award and, at 82, was the oldest person to win an Oscar for acting. Plus, he was Captain von Trapp!
I was only a child when The Sound of Music debuted, yet seeing it was profound. I quickly wrote my own version of the screenplay, reimagining Maria as a male gardener who teaches the von Trapp children to sing, befriends the captain and brings happiness to the family. The retitled Love & Hate Mixed changed my life as an artist.
So, there I was in Stratford picking up Captain von… I mean Christopher Plummer in my unwashed 2003 Suzuki. Nervously I apologized for its condition. He smiled and said: "Oh, I don't give a damn." I relaxed. We chatted about Stratford and his appreciation for ACTRA. I asked him what he preferred the photo crew call him and he said: "Your Lordship." We laughed and I called him "Your Lordship" all afternoon.
He was charming and elegant during the shoot, forthright about what he would or wouldn't do, and he knew exactly when the shot was in the camera. He also knew, to the minute, when he was done. He was, after all, a star. It took a bit of cajoling to get the final photograph… with me.
As I drove him home, I remembered hearing Chris (the name he actually preferred) didn't like to talk about The Sound of Music so I never told him how his film had changed my life. I wish I had. Farewell Your Lordship.
David Gale
Chang Tseng
1930 – 2021
Well-known, award-winning Hong Kong actor and director Chang Tseng first began his career in the early 1950s and had already starred in over 75 films in Asia before moving to Vancouver in the late '90s with the hopes of a quiet retirement. However, the call of the camera resonated too loudly in his heart and he soon found himself starting a second career in Canada when he was in his 60s! He studied English and began by making cameos in films like Shanghai Noon and Romeo Must Die. A natural in front of the camera, he soon started leading in films like Mina Shum's Long Life, Happiness, & Prosperity opposite Sandra Oh; Dr. Jekyll and Mr. Hyde, and Final Recipe opposite Canadian K-pop star Henry Lau.
By the time of his passing in January 2021, he had already made appearances in an additional 50 film and television shows in Hollywood, including roles in Roland Emmerich's 2012, Agent Cody Banks, Dragon Boys, Arrow, Supernatural and more. Chang also won two LEO Awards for Best Leading Actor in the films Inconvenience and Dim Sum Funeral. He will truly be missed.
By Andrew Ooi
Robert Welch
1939 – 2020
Rob had the good fortune of getting an early start on his acting career, working in London, England, in repertory theatre, and film and television. After eight years in London, he returned to Ottawa to both continue his acting career and work on the family apple orchard.
While building his orchard business very successfully, Rob also prospered while working as an actor. His understated subtleness always shined through in his performances and his friendly demeanor made everyone he worked with feel comfortable.
His extensive stage work ranged from Shakespeare to playing at the Fringe Festival in Ottawa.Rob also created his own stage productions; he was not one to wait for opportunities but instead created them for himself.
In film and TV, Rob's most recent roles were in The Psycho She Met Online; Michael: Every Day; and The Perfect Roommate… just to name a few.
Rob left quite an impact on his son Jon who followed in his father's footsteps to become an actor. He will be missed by his three sons, Rupert, Jason, Jon, his grandson Noah and his wife Suzanne.
Anyone fortunate enough to have met Rob will always remember him as a warm-hearted man. He was the salt of the earth and a great actor.
Farewell good fellow. Rob will live on forever in our hearts, our memories and on film.
Suzanne Dupont & Jon Welch