Celebrating our ACTRA members' outstanding performances!
ACTRA Montreal Award Winners
ACTRA Montreal's performance awards celebration took place virtually on September 14, 2021. The 2021 ACTRA Montreal Award of Excellence was presented to Caroline Dhavernas. For three decades, Caroline has moved effortlessly from comedy to drama, both in English and French, captivating audiences everywhere with poise and her fearless performances.
Gemini- and Canadian Screen Award-nominee Kaniehtiio Horn was presented with the Walter Massey Breakthrough Artist Award. Warona Setschwaelo was presented with the Victor Knight Community Builder Award for her mentorship and activism on behalf of Montreal's emerging performers.
Julie Tamiko Manning, ACTRA Montreal's 2021 Woman of the Year, was recognized for her achievements in advocacy and the arts. Life memberships were presented to Past Presidents Don Jordan and Cary Lawrence.
The ACTRA Montreal Awards show was hosted by ACTRA Montreal President Simon Peacock. Click here for the complete list of 2021 award recipients, and here to (re)watch the virtual awards. actramontreal.ca
2021 Canadian Screen Award Winners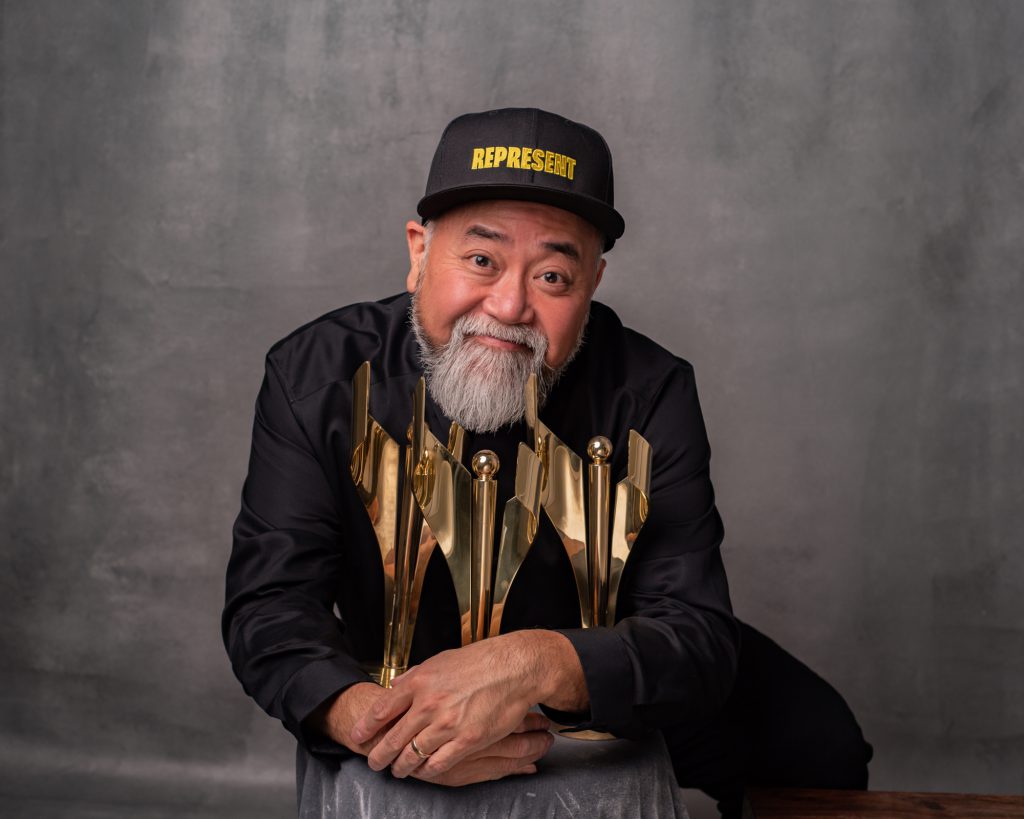 Schitt's Creek led the television honours at the 2021 Canadian Screen Awards with eight wins for its sixth and final season, including Best Comedy Series and Best Direction, Comedy for Andrew Cividino and ACTRA member Daniel Levy. This was also the sixth consecutive win for Catherine O'Hara in the Best Lead Actress, Comedy category and for Emily Hampshire, who has been recognized in a supporting role in every season of the acclaimed CBC show. The cast of Kim's Convenience also collected multiple awards including Amanda Brugel's win for Best Guest Performance, Comedy; Andrew Phung for Best Supporting Actor, Comedy; and Paul Sun-Hyung Lee in the Best Lead Actor, Comedy category.
Ottawa's Melanie Scrofano was crowned the winner of the Cogeco Fund Audience Choice Award and was also recognized with a nomination for Best Lead Actress, Drama Series for the fourth season of Wynonna Earp. Hamza Haq collected the Best Lead Actor, Drama Series award for his work in Transplant. Film honours were led by Jeff Barnaby's Blood Quantum with seven Canadian Screen Awards, including Michael Greyeyes in the Performance by an Actor in a Leading Role category.
The Canadian Academy also recognized the late Christopher Plummer with the Best Supporting Actor, Drama award for his role in Departure. Bit Playas won the Best Web Program or Series, Fiction award; the Best Children's or Youth Fiction Program or Series went to Odd Squad Mobile Unit; and the award for Best Pre-School Program or Series was won by PAW Patrol.
Click here for the complete list of 2021 Canadian Screen Award nominees and winners, and here to (re)watch the virtual awards. academy.ca
Lisa Hurd honoured with 2021 ACTRA Newfoundland Award of Excellence
Lisa Hurd was honoured with the 2021 ACTRA Newfoundland Award of Excellence at a special event hosted by ACTRA Newfoundland/Labrador for Canadian performers and special guests.
"We thank Lisa Hurd for her contributions to our entertainment industry in Canada and for her ongoing commitment and dedication to our union," said Ruth Lawrence, ACTRA Newfoundland/Labrador President. "Lisa is a gifted and accomplished actor. She is incredibly generous, as an artist, an ACTRA member, friend, and mother. For many, Lisa was part of the arts community who warmly embraced young artists over many decades. She understood from personal experience about landing on unfamiliar ground and she instinctively welcomed others with her signature tenderness and compassion. Her grace and gentle manner endeared her to all who have encountered her and her great talents over the years. ACTRA NL is delighted to honour her life's passion and work."
Lisa has been heard coast-to-coast for many years on the CBC in countless radio dramas in the 1960s, '70s and '80s. She has had roles in the TV series, Little Men (1998), the short film, My Father's Hands (1999), and the TV mini-series, The Judge (2001). Lisa has toured Canada performing in the one-woman play, Dance Like a Butterfly, by Montreal playwright Aviva Ravel.
Past recipients of this prestigious award include accomplished Canadian performers Andy Jones, Mary Walsh, Chris Brookes, Paul O'Neill, Greg Malone, Cathy Jones and Bob Joy. The presentation of the 2021 ACTRA Newfoundland Award of Excellence to Lisa Hurd took place at the BIS Club in St. John's, NL, on October 6, 2021.
Alberta's 2021 Rosie Award Winners
Presented by the Alberta Media Production Industries Association (AMPIA), the annual Rosie Awards celebrate excellence and outstanding achievement of Alberta-based productions and film workers who reside in Alberta. Jann Arden won the award for Best Performance by an Alberta Actress for her title role in the series Jann. Stafford Perry won the award for Best Performance by an Alberta Actor for his role in the series Tribal. A special congratulations to Sally Bishop who won the inaugural Best Stunt Performance Award for her work in Let Him Go. In the director category, Julian Black Antelope picked up the unscripted under 30-minute honours for The Secret History of: The Wild West, "Bear Medicine." Sally Bishop and Julian Black Antelope are both ACTRA Alberta Councillors. This year, winners were announced in an online event on September 25, 2021, in partnership with the Calgary International Film Festival. The awards ceremony can be (re)watched here and the full list of winners viewed here. ampia.org